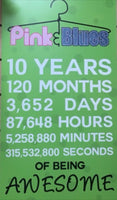 10 Years of Awesome Customers!
We are thrilled to be celebrating our 10th year of business. In these strange times, we can't thank our loyal customers enough for shopping with us online. If you need to schedule a FaceTime appointment to visit the store, please email lisa@shoppinkandblues.com
We can't wait to see you again soon in the store!